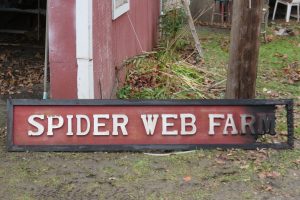 Dear Friends,
On October 25th the Spider Web Farm was destroyed by fire.  It was devastating.   Fortunately no one was hurt but all machinery, equipment and raw materials were destroyed. Our 40th year was so rewarding.  Although webs were scarce we met so many people from all over the world who enjoyed their visit.
All is not lost!  We have our web collecting sheds, our "Spiders At Work"  sign and, with the encouragement of family and friends,  are planning to begin again.
Look for posts on the website as we work our way through this winter and we'll share future plans.  We've posted pictures of the cleanup below
You all have brought us so very much pleasure over the years and we're hopeful we'll be making a comeback. We love you all and wish you a Happy Thanksgiving and a may we meet again.
Will and Terry