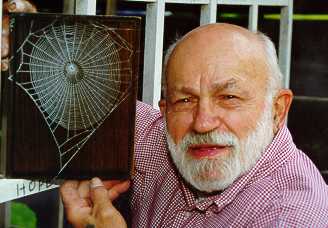 Made by skilled laborers.
Will Knight and his Spider Web Farm have been featured on the Today Show, You Asked For It, Real People, Chronicle and many other television presentations. We've been written up in Yankee Magazine, the Boston Globe and several travel guides.
The Farm Caught on Video
We were featured on MSNBC as part of the 'Kelly's Curiosities' feature. We thinks it's great. Thanks Kelly!
We're 'Stuck In Vermont'
Our new friend Eva, who does a video feature called 'Stuck In Vermont', stopped by recently to hear some stories and to watch a web being harvested. Her report can be found on YouTube at https://youtu.be/uTChQ9qd7Qk
As Seen In Seven Days
For Halloween 2014 the weekly alternative paper Seven Days featured us. If you visited us you'll find it brings back memories of talkig with Will. If you haven't come by yet this is a great introduction: http://www.sevendaysvt.com/vermont/a-vt-couple-farms-spiders-for-fun-and-profit-at-knights-spider-web-farm
The Farm Makes New Travel Guide
Spider Web Farm was recently added to the 'Atlas Obscura' on-line travel guide. You can read more about it here.
Where did you learn about us?? E-mail us below.