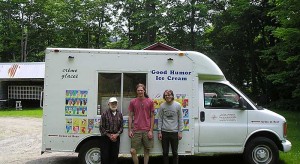 I confess that I have a fondness for ice cream.  I've been known to go down to the local creemee stand (soft serve ice cream) on a summers evening.  So you can imagine my surprise when I heard a familiar ringing sound and an ice cream truck pulled into our parking lot.
The two fellows driving it were from out of state and were touring in the ice cream truck.  They had read about us and decided to make a visit here a part of their trip. I was so impressed I forgot to get their names or where they were from.  If you know them tell me who they are and I'll add it into this post.
Anyway, after they showed me around their truck I gave them a tour of the farm.  We had a very nice visit but I also confess that I let them leave the yard without asking if they really had an ice cream in there.  You can guess where I went that evening!
Summer at the Spider Web Farm really keeps me smiling.  If you're not in a hurry and like to chat, stop by.   We welcome all kinds of vehicles and really enjoy willing listeners – especially those bearing ice cream.