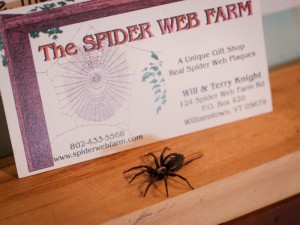 A recent visitor sent along this picture with the following note:
Hello! I visited your farm a few weeks ago with my mother and my brother, and were greeted by your unofficial spider receptionist! (According to the internet, our little friend was a parson spider.) 
We had a great time visiting, thanks so much! Jeanie
Thanks Jeanie, we're glad you had a good time.  The Parson doesn't come out and greet just anybody.  We look forward to seeing you again.