"Home Of The Original Web Site"
NOTICE - We will be CLOSED on Saturday JULY 28 for a family function.Thanks for your understanding.
A New Building And New Hours
We lost our workshop/store building in a fire last year. After some delays and problems we now have our new building, a section of which will hold displays of our lovely Spider Web Plaques. The sign over the door is from the original building. Take a closer look and you'll see where it was scorched by the flames.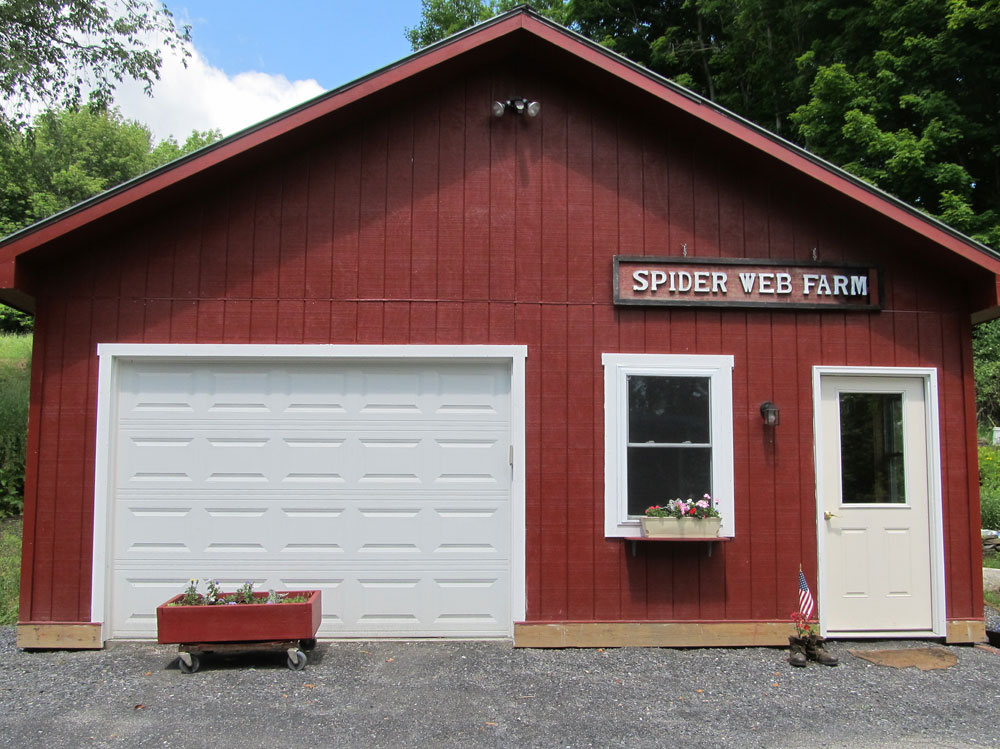 The web collection racks have been hung out and the spiders have been working as we work on the building. You can find more on the new building and our plans in Will's notebook
Our New Hours 2018
We invite you to visit this summer and fall if you are in the area. You can see our progress, find out how we collect the webs and perhaps share a memory of Will.
We're open Noon to 5pm, Thursday through Sunday until October 15. Then, weekends Noon to 4pm through Thanksgiving weekend, and always, by appointment.
We hope to see you soon.
You can see a press account of our fire on our press page, at the WCAX site or search for it on the Web.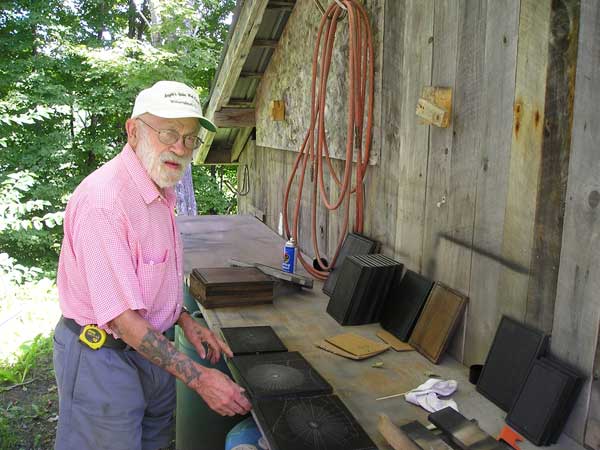 Will Knight (1926-2017) Honored
Will was named as one of the 'People of The Year' by our weekly paper Seven Days as part of the year-end issue. The paper's video producer Eva Sollberger visited and interview Will in 2015. Like most everyone else she was charmed by Will's stories and jokes and wanted to honor him this year.
Eva came back to the farm and did a video inteview with Terry about Will and the plans for Spider Web Farm in the future. You can read her tribute to Will and view the video here.
Check Out Will's Notebook
Terry Knight has posted an update in Will's notebook about the plans to carry on Will's legacy:
Help Rebuild The Store
Many have asked if there is some way you could help us and now there is. Our daughter has started a fund raising page for us. Please check back through this summer for updates on the future Spider Web Farm.

Got Questions? We've got answers:


webfarm@myfairpoint.net
or call: 802-433-5568
This Site © 1999-2018 Knight's Spider Web Farm