"Home Of The Original Web Site"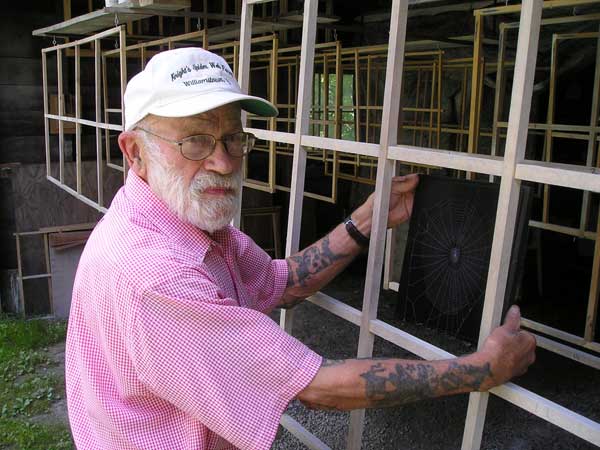 A Winter Hours Update
Our winter hours are by appointment by calling 802-433-5568 until it gets warmer. Call ahead so I can throw a new stick in the woodstove to be sure the store will be nice and warm for us.
Love "Charlotte's Web ?"
Come visit us at Spider Web Farm and see her friends and relatives at work.
We are the home of the original spider web plaques - real spider webs captured and preserved by Will Knight using a special process. Each web is unique but
you can see several examples of the great art our little workers produce on our products page.
We had a great Christmas season and are SOLD OUT right now. When our little workers emerge in the spring we'll be busy finding the best webs for you.
Please drop by to see how it's done. We hope to see you this summer and fall!
Check Out Will's Notebook
Will has started keeping a notebook about the spiders,
the visitors he meets each day and other seasonal stuff.
From the Notebook:
Thanks to one of our visitors you can now see the 'big picture' of Spider Web farm. And be sure to read about "The Mystery of the Floating Stones" - very spooky stuff. (wink wink).

Got Questions? We've got answers:


webfarm@myfairpoint.net
or call: 802-433-5568
This Site © 1999-2014 Knight's Spider Web Farm