"Home Of The Original Web Site"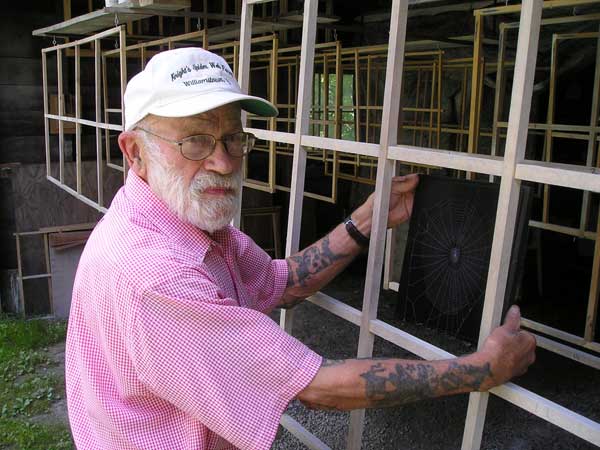 Winter Is Here And The Spiders Aren't
Well we're having some warm weather right now but the first killing frost have happened. That means all our spiders have found
places to hide for the winter. It also means that we have put the collection frames away and Will is spending most of his time tending the fire in the shop.
We are still around for your holiday shopping so below are our winter hours. If you call ahead will might even light the stove in the shop to make it more comfortable for you.
Our winter hours are weekends 11am-4:30pm or by appointment.
Love "Charlotte's Web ?"
Come visit us at Spider Web Farm and see her friends and relatives at work. We are the home of the original spider web plaques - real spider webs captured and preserved by Will Knight using a special process.
Each web is unique but you can see several examples of the great art our little workers produce on our products page.
Limited Webs Available
We had a great year for sales but not for web collection - this means we have a limited supply of webs right now. They all have a dark walnut background.
Before you order give us a call to tell us what you are looking for.
Please drop by to see how it's done and select a web in person. We hope to see you this summer and fall!
Check Out Will's Notebook
Will has started keeping a notebook about the spiders,
the visitors he meets each day and other seasonal stuff.
From the Notebook:
Winter and the cold wet spring were hard on us and the spiders too so we're taking our time collecting webs to preserve our precious resource. (read more)

Got Questions? We've got answers:


webfarm@myfairpoint.net
or call: 802-433-5568
This Site © 1999-2015 Knight's Spider Web Farm