"Home Of The Original Web Site"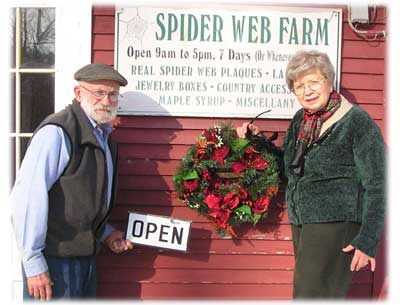 Winter Is Here And We Are Sold Out!
We have put up our wreath but taken down the 'open' sign because we have sold out of webs for on-line sale. YOu made our 2015 season a great one with lots of sales. It was a strange summer so our spiders were not as productive but we hope they will help us replenish in 2016. WE hope to see you here at the farm next summer and fall.
If you want to drop in for a visit this winter call ahead. Will might even light the stove in the shop to make it more comfortable for you. He would love to spin you a few yarns about how he started collecting webs. You can view him talking about it on our Press page.
Our winter are now by appointment only.
Check Out Will's Notebook
Will has started keeping a notebook about the spiders, the visitors he meets each day and other seasonal stuff.
From the Notebook:
We had a visit from Girl Scout troop 509 from Berwick, Maine last week. I got to answer their questions about spiders and show them how I harvest the webs. (read more)

Got Questions? We've got answers:


webfarm@myfairpoint.net
or call: 802-433-5568
This Site © 1999-2015 Knight's Spider Web Farm