"Home Of The Original Web Site"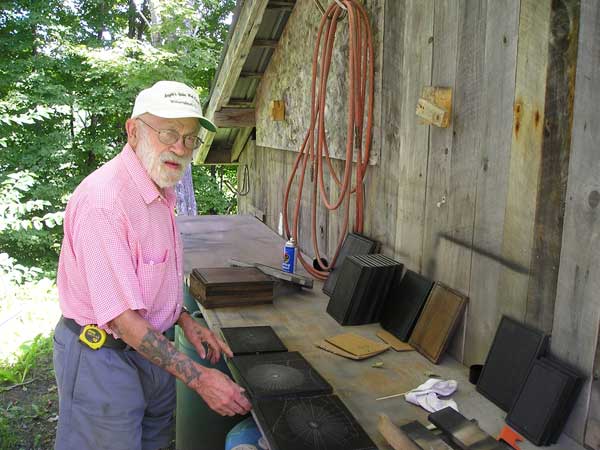 Will Knight (1926-2017)
We are saddened to let you know that, after a brief illness, our spiderman, Will Knight has died. For 40 years he was the face, and voice, of Spider Web Farm. Will loved spending his days collecting spider webs, putting them on wood plaques and entertaining visitors from around the world. He particularly enjoyed sharing his knowledge with local children who visited the farm on school trips.
You can read his full obituary and leave your memories and condolences to his wife Terry and their family here.
Recovering From The Fire
Due to a fire last fall in our workshop/store building we are closed until we rebuild this summer. The plans for this continue just as Will would have wanted. Up until just a few weeks ago he was buying tools and looking over the plans for the new shop.
The web collection racks have been hung out with care in hopes that our spiders soon will be there. But right now we don't have any of our unique spider web plaques to sell. Will has written more about it in his last notebook entry.
The barn that housed our store and Will's workshop was destroyed in the fire. Fortunately, no one was hurt and our home was not damaged. We thank everyone for their concern. You can see a press account of our fire at the WCAX site or search for it on the Web.
We are heartened and grateful for the outpouring of concern from friends far and wide.
Help Rebuild The Store
Many have asked if there is some way you could help us and now there is. Our daughter has started a fund raising page for us. Will talks about it in his notebook. Please check back in the spring of 2017 for an update on our plans for the future of Spider Web Farm.
Check Out Will's Notebook
Will has been keeping a notebook about the spiders, our visitors and now about the fire.
From the Notebook:
Our recent fire has made for a tough couple of weeks leading up to Thanksgiving Day. But our neighbors and friends have really gone the extra mile in helping us. We especially appreciated a group of students from the elementary school who came by to give us money they collected as well as a special gift. (more)

Got Questions? We've got answers:


webfarm@myfairpoint.net
or call: 802-433-5568
This Site © 1999-2017 Knight's Spider Web Farm